Specialist in hip arthroscopy, AMIS – Anterior Minimally Invasive THR, Femoroacetabular Impingement, knee arthroscopy and replacement

Francis Ma - Orthopaedic Surgeon
Francis Ma has a special interest in management of conditions affecting the hips and knees, with particular skills in hip arthroscopy and minimally invasive hip joint replacement surgery, including anterior approach and mini posterior approach.
He is readily available to discuss urgent referrals with general practitioners, sports physicians and allied health practitioners.
Francis' special interests and expertise include:
Hip arthroscopy and the management of hip pain in the young adult, especially femoroacetabular impingement (FAI)
Management of arthritis of the hip and knee
Hip and knee replacements including:
Anterior mini invasive and mini posterior hip replacement
Partial and total knee replacement (routine use of computer navigation)
Complex primary and revision (redo) replacement procedures of the hip and knee
Local infiltrative anaesthetic techniques to facilitate early recovery
Robotic arm assisted knee replacement surgery. (Total hip to be included late 2016 early 2017)
Knee arthroscopy, cruciate ligament reconstruction and meniscal repair
General orthopaedic trauma in adults and children
Mr Francis Ma is an Australian trained orthopaedic surgeon who is part of the Knox Orthopaedic Group which is based in Wantirna, Melbourne. He joined the group in late 2011. He commenced practice in Heidelberg at the end of 205 and has recently started practice in Fitzroy and Lower Templestowe, click here for location details. He aims to deliver high quality and efficient orthopaedic service to the local community.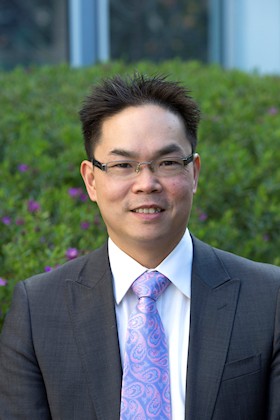 Make an Appointment for a Consultation
We are open Monday to Friday from 9-5, except public holidays.