About Us
Francis Ma – Orthopaedic Surgeon
Migrating from Hong Kong as a young boy, he grew up in the eastern suburbs of Melbourne and graduated from the University of Melbourne in 1999. He undertook his internship and junior surgical training at the Royal Melbourne Hospital going on to post graduate surgical training in orthopaedics. He was awarded the Australian Orthopaedic Association Registrar prize, the highest ranking registrar in Victoria and Tasmania in 2008. He completed his orthopaedic training in 2009 and was granted his FRACS from the Royal Australasian College of Surgeons in 2009.
In 2010 Francis was appointed as an orthopaedic consultant at St Vincent's Hospital pursuing his interests in hip and knee replacements in a high volume hip and knee arthroplasty unit. Along with this, he was responsible for the bulk of the general orthopaedic trauma surgery at St Vincent's Hospital. He also worked as a consultant at Maroondah Hospital with particular interests in knee reconstruction, sports medicine and general orthopaedic trauma in adults and children.
He then relocated with his young family overseas further sub specialising with post fellowship training in the United Kingdom in 2010-2011. He gained further valuable experience with complex hip and knee replacements including difficult primary and revision (redo) replacements at the Royal Infirmary of Edinburgh under the mentorship of Mr Colin Howie, the immediate past President of the British Hip Society. This unit is world renowned as a high volume tertiary referral centre for joint replacements. Here, he refined his skills in minimally invasive hip replacements with a particular interest in mini posterior approach total hip replacements, computer navigated total knee replacements and early recovery techniques.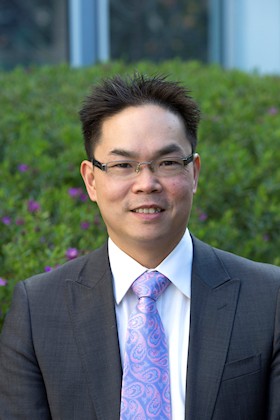 Following this, he completed a prestigious fellowship specialising in hip arthroscopy and hip preservation surgery with Professor Damian Griffin at the University Hospital of Coventry and Warwickshire (UHCW), UK. This fellowship provided him with invaluable experience in the management of femoroacetabular impingement (FAI), hip pain and sports medicine in the active adult population including elite athletes. At UHCW, time was also spent with the hip and knee arthroplasty and soft tissue knee unit. This allowed him to further his experiences in hip resurfacing, revision hip and knee replacements (total and partial) and soft tissue/knee ligament reconstruction.
Whilst overseas Francis attended multiple courses and trained to perform anterior minimally invasive hip replacement (France and Europe). He also gained further experience in other techniques to facilitate early post operative recovery using the latest local infiltration anaesthetic techniques. He now routinely uses these techniques when performing joint replacement surgery of the hip and knee.
Having returned to Melbourne in the second half of 2011, Francis spent a further four months visitinglocal Melbourne and Australian arthroplasty and hip arthroscopy surgeons to further refine his techniques and experiences prior to starting private practice at the end of 2011. He is now highly experienced in anterior minimally invasive total hip replacement surgery and regularly teaches registrars, fellows and other surgeons. He performs most primary hip replacements via the anterior approach. More complex cases or those not suitable to have an anterior approach have mini-posterior or traditional posterior approach.
He has resumed his position as a Consultant Orthopaedic Surgeon at St Vincent's Hospital where he has a major interest in hip and knee replacements, hip and knee arthroscopy and sports medicine. He also plays a major role in the trauma service. Francis is widely published in peer review journals on multiple topics. He is a reviewer for several journals and is also a first and second line assessor in Orthopaedics for the Victorian Audit of Surgical Mortality. He regularly engages in the teaching and mentoring of orthopaedic trainees and medical students. As of 2015, he is a co-supervisor of an AOA Accredited Fellowship program at Knox Orthopaedic Group. His expertise in hip and knee arthroplasty, arthroscopy and reconstruction provide an excellent opportunity for him to teach surgeons from Australia, New Zealand and overseas the techniques he has learned and continues to refine.
Make an Appointment for a Consultation
We are open Monday to Friday from 9-5, except public holidays.